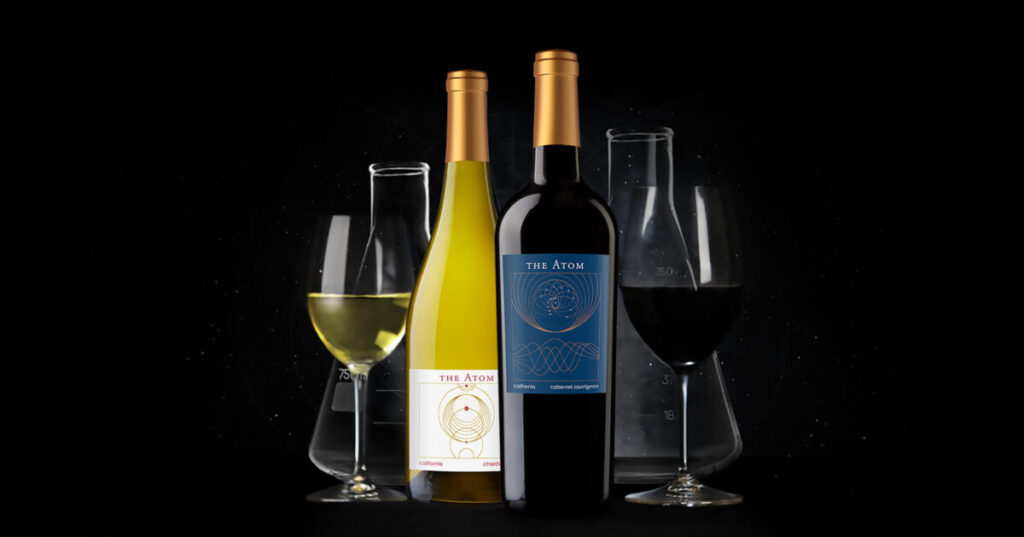 Ah, wine! Deceptively simple in chemistry
yet infinitely complex in sensory experience.
Composed of atoms yet equally composed by time. There are only 9 atoms in alcohol. The winemaking process is but 4 steps. Yet with the passage of time in both barrel and bottle, complexity is revealed.
800+ aromas to detect, 100+ unique flavors to taste. 1 perfect bottle for you. Consider the atom.

CHARDONNAY
The Atom California Chardonnay is a super-collision of hand-selected fruit, sourced from key growers throughout California. Aromas of toffee, vanilla, and baking spices accelerate into flavors of baked apple and citrus, with a touch of toasted oak. This wine has a clean finish.

CABERNET SAUVIGNON
The Atom California Cabernet Sauvignon - truly one of nature's greatest unsolved wine mysteries. We harvest clusters at ideal ripeness & combine them at the press before a slow, meticulous fermentation. On the nose, dark blackberry and cherry jaminess with a hint of leather. On the palate, we find lush and dark berry fruit, with notes of oak and black pepper. Balanced acidity & integrated tannins linger over a soft finish.